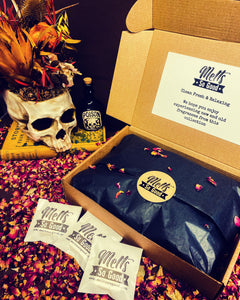 Sample Box
A  way to discover , explore and find new favourite from our fragrance collections .
Clean , fresh & relaxing 
Sweet & fruity 
Fragrance Dupes 
Unique fragrances 
assorted (a mixture ) 
Each box contains 12 samples 
 Packed in fully recyclable, compostable and biodegradable glassine bags. 
 Wax melt safety
Remove from packaging and place wax melt in well of your burner.Use with an unscented tea light.Keep out of reach of children & pets.keep out of draughts.Do not move while lit.Never leave a burning candle unattended
In accordance with the European Regulation (EC) No 1272/2008 on Classification, Labelling and Packaging (CLP) (2009), information on the chemical composition and associated hazards of each fragrance contained within our products is provided.
 Each packet contains one wax melt