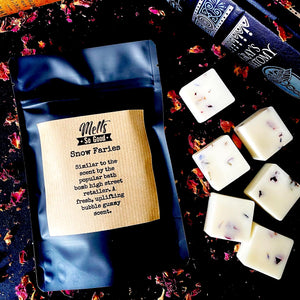 Fruity and sweet smelling fragrances 
 Fully recyclable Packaging
Each packet contains six cubes of wax 
Avobath

A vibrant citrus fragrance  combining notes of lemon, verbena, lemongrass and with spicy nuances and a base of citrus pith, musk and woods.
Bakewell Tart 
A sweet Bakewell tart fragrance with notes of vanilla, cherry and creamy almond 
Black Cherry
This fragrance has a strong and vibrant scent identical to a tub of ripe cherry's .  Retaining all the sweetness of Cherry while adding rum notes and deep red tartness.  
Caramel vanilla latte 
A sumptuous fragrance  with notes of caramel, coffee, vanilla and a hint of almond.
Coco Loco
An intoxicating aroma of white rum blended with coconut milk and flesh,  sweetened by crushed vanilla pods. 
 Lord of Musrule 
A herbal blend of patchouli, peppercorn and black pepper with freshly cut vanilla pods providing uplifting sweetness.Similar in style to the scent of the popular high street bath bomb retailer.
 Marshmallow Fluff
This fragrance is packed with a creamy, sugary, vanilla aroma.  A light fluffy fun fragrance 
Monkey Farts
A sweet, edible smelling fragrance with notes of pear, apple, plum, banana, peach, pineapple, strawberry and raspberry with light floral notes on a musk base
Parma Violet
The  sweet scents of heliotrope, rose, iris, lily and a touch of spice for a classic nostalgic aroma,  identical to the scent of those little purple parma violet sweets. This fragrance is reminiscent of a childhood sweet shop. Guaranteed to bring childhood memories flooding back!  
 Rhubarb & Custard
Smells just like the sweets we all loved as a kid. A must have !
 Pixie Dust
A floral fruity fragrance.  Notes of pear, sweet notes, cotton candy, vanilla and cherry. A fresh uplifting perfume, which is one of our most popular fragrances. 

 Plum & Rhubarb
A fruity fragrance of fresh rhubarb & juicy plum , ripe pear , sweet peach with vanilla
Snow Faries
Top notes of Spun Sugar, Peach. Middle notes of Cherry, Raspberry, and Pear. Base notes of Vanilla.
Thai Lime & Mango
A fresh tropical fruity fragrance with lemon, lime, cassis, pineapple, mango,passion fruit,peach, apricot and plum,musk and dry fruits.
Very Vanilla

 Smells just like freshly chopped vanilla pods , it has a distinctive spiced but delicate floral aroma  packed with vanilla scent.
 A Thousand Wishes 
A stunning fragrance with notes of quince, star fruit and sparkling wine followed by a floral heart of fresh peonies, rose and freesia on a base of sweet sugar, amber, sandalwood and soft musk.
Wax melt safety
Remove from packaging and place wax melt in well of your burner.Use with an unscented tea light.Keep out of reach of children & pets.keep out of draughts.Do not move while lit.Never leave a burning candle unattended
In accordance with the European Regulation (EC) No 1272/2008 on Classification, Labelling and Packaging (CLP) (2009), information on the chemical composition and associated hazards of each fragrance contained within our products is provided.