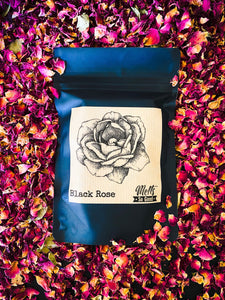 Black Rose
Soft and spicy, this blooming bouquet opens with rich fruity notes of blackcurrant and damson plum, that sink into a sumptuous heart of delicate petals. Spiced tones of carnation, rose and lily sit upon an indulgent cushion of warming amber and smooth woody notes of creamy sandalwood and cedar.
Pouch contains six cubes of wax 
Wax melt safety
Remove from packaging and place wax melt in well of your burner.
Use with an unscented tea light.Keep out of reach of children & pets.keep out of draughts.
Do not move while lit.Never leave a burning candle unattended
Recyclable Packaging
In accordance with the European Regulation (EC) No 1272/2008 on Classification, Labelling and Packaging (CLP) (2009), information on the chemical composition and associated hazards of each fragrance contained within our products is provided