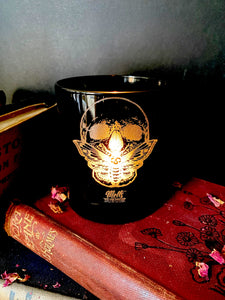 Beautiful etched candle with Skull Moth design
Candle comes with bespoke box and branded matches.
Candle has two cotton wicks 
Available in four hand chosen bewitching fragrances. Approximately 45 hours burn time 
 Dark Honey & Tobacco 
A rich and full aroma, with citrus tones leading to a heart of honey and warming spices supported by floral nuances of jasmine, gardenia and muguet on a rich base of tobacco, amber, cedar, patchouli, sandalwood, vanilla and musk.
Damson Plum, Rose & Patchouli
Opulent fruity notes of plum, cassis and rich dark berries indulged in decadent spices of cinnamon and clove. Glamourous floral accords of jasmine and rose are surrounded by sweet patchouli, sensual vanilla and moss to complete this sophisticated fragrance.
Top Notes: Plum, Cassis, Rose, Bergamot, Orange
Heart Notes: Black Cherry, Prune, Cinnamon, Clove, Nutmeg
Base Notes: Patchouli, Vanilla, Tonka Bean, Candy, Musk.
Frankincense And Myrrth 
A dark, mystical fragrance with notes of frankincense, tuberose, violets, myrrh and amber.
Cocoa - Aldehydic - Bergamot - Orange
Jasmin - Amber - Cyclamen
Patchouli - Vanilla - Cedarwood - Musk
The Dark Side (black orchid) 
 A sensuous blend of Black Truffle and Ylang mingled with fresh Bergamot and delectable Blackcurrant.
Simple instructions are given on the label of each candle, but here is the full list of tips and tricks to get the most out of your beautiful candle:
Burn on a heat-resistant, flat surface. Keep away from drafts, children, pets, fabric or anything flammable. Always burn within sight. 
    The first time you light the candle, allow the melted wax pool to reach the edge of the container. For small candles it may only take an hour. For large candles it can take 2+ Plus hours 
 Never leave your burning candle unattended.
You can use scissors or specialised wick trimmers to trim your wick. It is recommended that you trim it to between ⅛ and ¼ of an inch and this should be done every 4 hours of burn time. After you extinguish the flame, wait until the candle returns to room temperature before trimming the wick.
Burn for 4 hours maximum. Continuing to burn the candle beyond 4 hours is a safety hazard and will reduce your candle life.
Do not touch the glass container while the candle is burning, or while it's still warm 
Burn candles in a well-ventilated non-drafty room. A draft might blow out the candle prematurely or keep it from staying lit
Once the candle has reached about 1/2" of wax remaining, stop burning it. Continuing to burn past this point is a fire hazard. 
Soy wax candles burn slower and are more temperature sensitive than paraffin candles. Your burn rate and candle characteristics might be different depending on the temperature of the room you burn it in.
Re-use or recycle your packaging!
We use glass vessels which can be washed with soapy warm water out and re-cycled.
May cause an allergic reaction. Read the label before use. IF ON SKIN: Wash with plenty of soap and water. If skin irritation occurs: get medical attention/advice. Keep away from children and pets. Toxic to aquatic life with long-lasting effects. Avoid release into the environment. Dispose of contents/containers in accordance with local regulations. Store out of direct sunlight, in a cool dry place.
In accordance with the European Regulation (EC) No 1272/2008 on Classification, Labelling and Packaging (CLP) (2009), information on the chemical composition and associated hazards of each fragrance contained within our products is provided.