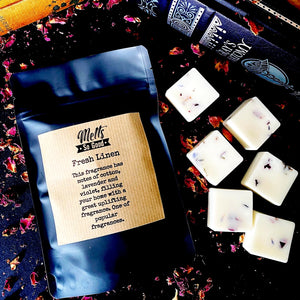 Fresh Clean and relaxation fragrances 
Each packet contains six cubes of wax 
Aqua Minerals & Sea Kelp 
Embrace the cool freshness of the sea trend with this revitalising, aquatic fragrance  
 A bold citrus fusion of bergamot, lemon, lime & sweet mandarin, harmonised by a floral bouquet of cyclamen, freesia, rose & jasmine. All this is enhanced by a rush of watery marine notes, resting on a fond of musk, amber, cedar, patchouli & moss.
 Baby Power 
Identical to the classic baby powder scent we all love.  A sweet and memorable smell of clean elegance.
Blissful
Bliss fragrance combines the inviting scents of red berries and cherry with elegant Jasmine and a hint of peachy sweetness.
 Clean Cotton
An invigorating and refreshing scent. An amazing aroma of fresh crisp linen, combined with eucalyptus, blossom and cut grass. The ultimate in fresh aromas.
Coconut & Waterfall Blooms 
Sit back, relax & let the sense drift away to faraway lands with this fresh, ozonic floral fragrance where cool marine notes & sea salt are intertwined with nuances of tropical coconut.
The heart unfolds with a cascading waterfall of lily, rose, freesia & jasmine, embraced by a fond of sandalwood, musk & amber.
 Dreams
Similar to the popular dreams scent boosters.  Dreams fragrance has a luxurious level of lavender, silky vanilla , and gentle cedar undertones. 
Dove 
Similar to the popular soap bar scent. A fresh, clean and uplifting scent.
Energising Oasis 
Awaken the mind, body & soul with this uplifting citrus fragrance opening with a sparkling cocktail of mandarin, lemon & grapefruit enhanced by aromatic tones of black pepper, cardamom & coriander.
The cool heart of jasmine, orange blossom descends onto a base of musk, amber & precious woods

Fresh Linen
This fragrance has notes of cotton, lavender and violet, filling your home with a great uplifting fragrance. One of popular fragrances. 
Fresh 
 A diffusive fruity floral fragrance with clean ozonic notes and soft citrus orange, peach and green apple, leading to a floral heart of translucent Jasmin, rose and neroli, freshened with aromatic nuances of anis, eucalyptus and green notes. The fragrance finishes with a soft trail of patchouli and vanilla.
Lime Basil & Mandarin 
Notes of peppery basil and aromatic white thyme which brings an unexpected twist to the scent of limes on a Caribbean breeze. 
Linen Fresh Zo Flo 

Light, airy and wonderfully clean, fresh fragrance 
Lavender

Identical to freshly picked lavender flowers.  This fragrance is bursting with floral aroma, this scent is just like walking through a lavender field in the heart of summer. 
Lavish 
   A peachy fragrance , infused with creamy vanilla and caramel. 
Lord of Misrule 
A herbal blend of patchouli, peppercorn and black pepper with freshly cut vanilla pods providing uplifting sweetness.
 Mountain Air 
A refreshing  floral fragrance of bergamot, orange blossom, gentle aldehydes and fruity hints, followed by a clean floral heart of rose, Jasmin, violet and lily, resting on a base of amber, soft woods and musk.
Pampering Bliss 
Indulge the senses with this sumptuous oriental fragrance opening with top notes of peach & apricot resting alongside luscious berries, cool bergamot & juicy guava.  A beautiful floral harmony of peony, lily of the valley & jasmine, nestled amidst a sweet fond of vanilla, caramel, amber & sandalwood.
Relaxing Embrace 
Soothe the senses & experience the relaxing embrace of bergamot, rosemary & peppermint wrapped in a comforting medley of lavender & geranium.
Musk, sandalwood & patchouli delicately unite to bring the fragrance to a calming close.
 Sage & Sea Salt 
Reminiscent of waves breaking white, the air fresh with sea salt and spray. Alive with the mineral scent of the rugged cliffs. Mingling with the woody earthiness of sage. 

Seychelles 
Fresh bergamot, orange, exotic coconut vanilla & almond. A delicious fragrance 
Springtime
A fresh green herbal fragrance with lemon, basil, armoise and thyme enriched by green leaves supported by a heart of pine needle, rose and lily resting on a clean base of dry flowers and musk.
Summer Breeze
A delightful floral fragrance where fresh green apple rests upon a heart of violet, heliotrope and a touch of spice supported by a powdery base of tonka, musk and woods.
Spring Awakening
Similar  to the popular fabric conditioner. Trapped in the scent of spring flowers and hints of natural patchouli and white cedar. An invigorating and fresh fragrance.
 Twilight Garden

A relaxing combination of moonlight flowering lilies, ylang and jasmine with uplifting notes of peach and musk, bringing a calming floral scent to your home.

  Time to unwind 
Revitalise the mind & soothe tired muscles with this invigorating spicy oriental fragrance where bold citrus top notes are lifted by a burst of black pepper. All this is supported by a herbal fusion rosemary & eucalyptus, enriched by warm spices, precious woods amber & musk.
Wax melt safety
Remove from packaging and place wax melt in well of your burner.Use with an unscented tea light.Keep out of reach of children & pets.keep out of draughts.Do not move while lit.Never leave a burning candle unattended
May cause an allergic reaction. Read the label before use. IF ON SKIN: Wash with plenty of soap and water. If skin irritation occurs: get medical attention/advice. Keep away from children and pets. Toxic to aquatic life with long-lasting effects. Avoid release into the environment. Dispose of contents/containers in accordance with local regulations. Store out of direct sunlight, in a cool dry place.
In accordance with the European Regulation (EC) No 1272/2008 on Classification, Labelling and Packaging (CLP) (2009), information on the chemical composition and associated hazards of each fragrance contained within our products is provided.