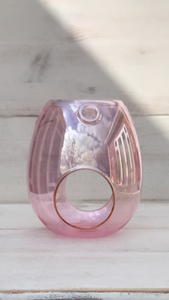 Melt Burner – Pearl Pink
Stunning pearl pink burner, perfect for your home or as a gift. 
Caring for your device
Our wax burners are only suited to using 2 or 4 hour fragrance free tea lights.  
Avoid using devices over consecutive periods of time as the glass will over heat 
Do not use a sharp object to remove solid wax in well, this will result in damaging and even breakage, simply place a tea inside device for 15 seconds and gently remove solidified wax , do not push down hard when removing wax.
Devices can be cleaned using warm not hot soapy water