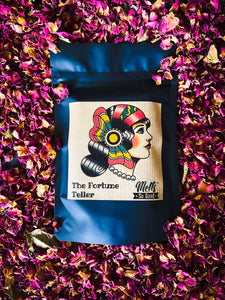 The Fortune Teller
Let yourself be compelled by our powerful and unique fragrance …The Fortune teller , Strong, earthy aromas scintillate the senses like a summer forest at night, warm and dark through saffron, with honeyed, velvety undertones of vanilla and violet, deepened by musk and enlivened by eucalyptus and patchouli.
Pouch contains six cubes of wax 
Wax melt safety
Remove from packaging and place wax melt in well of your burner.
Use with an unscented tea light.Keep out of reach of children & pets.keep out of draughts.
Do not move while lit.Never leave a burning candle unattended
Recyclable Packaging
In accordance with the European Regulation (EC) No 1272/2008 on Classification, Labelling and Packaging (CLP) (2009), information on the chemical composition and associated hazards of each fragrance contained within our products is provided